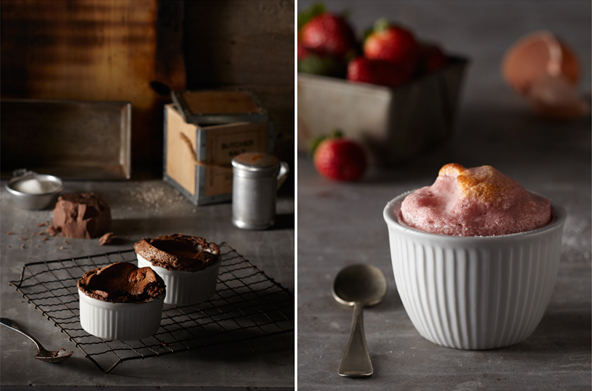 People perpetually ask me what I like to shoot.  I guess it's the one question people ask when they find out you're a photographer – that and, "oh, do you shoot weddings?"  Anyways…….. without hesitation I always reply, "food, I love shooting food, it's my passion."  More often than not, that's followed up by, "oh, because food doesn't move!"  While this is true to some extent, it is definitely not the rule!
Take for example Le Soufflé!  The word soufflé is the past participle of the french verb souffler; which literally means "to blow up."  Let me be the first to say, these puppies can move!!!!!  My food stylist Sara Bartus was gracious enough to give me a few "stand in" soufflés so I could light them properly, and so we could see just how quickly they would deflate.  They moved fast, it didn't take more than a minute for them to lose their "lift."
The Chocolate Soufflés were purposely left on set and dug into with a spoon to give the shot a more rustic aesthetic.  However, the strawberry soufflé wasn't out of the oven for more than 20 seconds when I captured the shot.
Bon Appétit!!!!